Hvitløk ny avling startet fra juni. Ny avlingpris er veldig billigere. Ny avling av materialer er større i år. Vi har allerede eksport hvitløk til Norge, Storbritannia, Rotterdam, Irak, Russland, Dubai, Kuwait, Spania, Israel, Tyrkiet, Brasil, Sengenal, Sør-Afrika, Algiers, Panama. Vi er veldig kjent med deres marked. Vi vil prøve vårt beste for å levere den beste kvaliteten. lasteporten er Qingdao-porten, vi kan levere FOB-pris, Cnf og CIF-pris. Vi kan levere de beste tjenestene. og vi har Global Gap for hvitløk og ingefær. og for øvrig leverer vi også Normal hvit hvitløk 5,5-6,0 cm, Normal hvit hvitløk 6,0-6,5 cm, hvit hvit hvitløk 4,5-5,0 cm, hvit hvit hvitløk 5,0-5,5 cm, hvit hvit hvitløk 5,5-6,0 cm, solo hvitløk, hvitløk skalet og fersk ingefær 150g og opp, lufttørret ingefær 200g og opp, lufttørret ingefær 250g og opp, frisk gulrot s80-150g, fersk gulrot M 150-200g, fersk gulrot L 200-250g, frisk kastanje 30- 40 stk, Søtkorn 220 g og opp 24 stk / ctn. hvis du har noen behov, vennligst ikke nøl med å kontakte meg.
produktbilder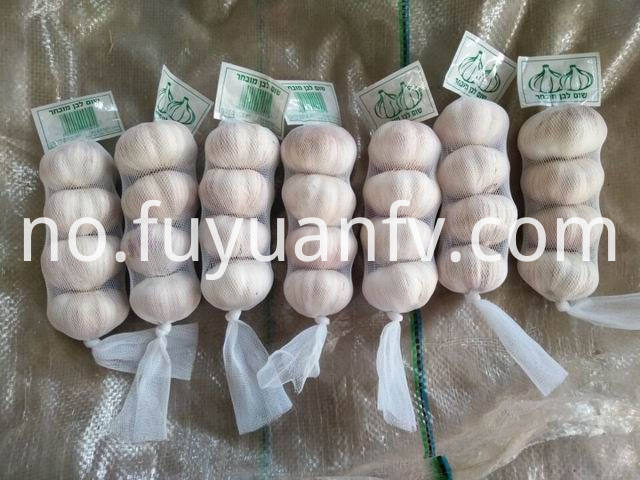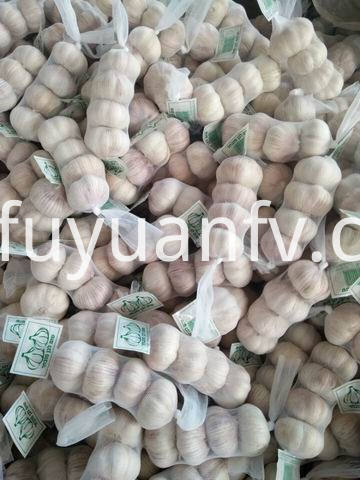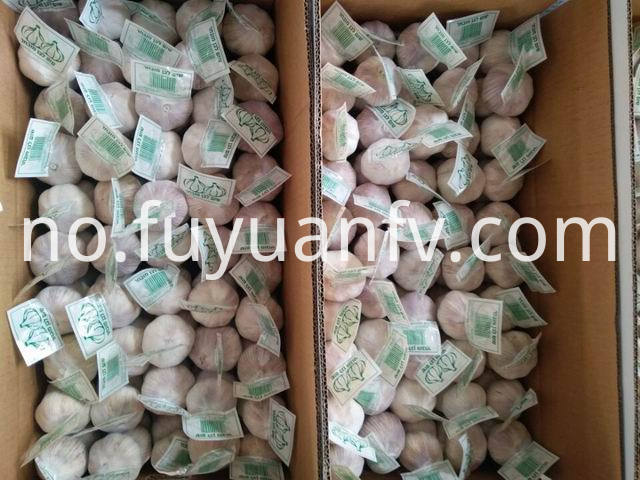 Name

Pure White Garlic, Normal White Garlic

Place of Origin:

Jinxiang,China

Harvest time:

in june

Supply capacity yearly:

35,000 MTS

Feature:

With thick bright skin, whole and strong texture, plump shaped bulbs.

Edibleness:

Reducing bacteria, keeping human in good condition and increasing immunity.

Exporting standard and quality

No root, clean, no black mould ,not broken,
No splits on the skin, no internal germination growth, no insects or
fungous stuff.

Supplying period

All year round,
1.Fresh season: from June to the last ten-day of August.
2.Cold storage season : from September to next May

Size:

4.5cm and up,5cm and up,5.5cm and up,6.0cm and up,6.5cm and up.

Varieties:

Pure white garlic, Normal white garlic, Solo garlic

Packing:

Mesh bag, carton
1) Loose packing:a) 10kg/ctn b) 20kg/ctnc) 10kg/mesh bag d) 20kg/mesh bag
2) Small packing:
a) 1kg/bag, 1kg x 10 bags/ctn b) 500g/bag, 500g x 20 bags/ctn
c) 250g/bag, 250g x 40 bags/ctn d) 200g/bag, 200g x 50 bags/ctn
e) 3pcs/bag, 10kg/ctn f) 4pcs/bag, 10kg/ctn
g) 5pcs/bag, 10kg/ctn h) 1kg/bag, 5kg/mesh bag
i) 500g/bag, 5kg/mesh bag
3) Customized packing: according to clients' requirements

Weight/Conveyance:

40`RHC

1.26-32MTS/40`reefer container. packing: mesh bag

2. 25.5MTS/40`reefer container. Inner packing,3pcs/net bag, outer packing:10/kg carton

3. 27MTS/40`reefer container. Inner packing: in bulk, outer packing:10kg /carton

Transporting and storing temperature:

-1.5°C -3°°C

Conventional terms of payment:

1)after sales confirmation sighed,50% deposit,the balance against the fax of B/L.
2) after sales confirmation sighed,50% deposit,the balance is paid 3) after sales confirmation sighed,100% irrevocable L/C at sight.
4) By discussing with clients.gainst the irrevocable L/C at sight.

Price terms:

FOB,CFR and CIF

Lead time:

7days/40`reefer higher container after prepayment is arrived
Within one week after deposit to our account or received original L/C.

Minimum order:

1 X 40`FCL

Shipment port:

Qingdao port, China

Inspection Certificate:

HACCP ISO9001,GLOBAL GAP

Category

Liliaceous Vegetables

Our advantage:

We have our own factory and farm to produce and processing pure white garlic and normal white garlic and other agriculture products.

Standard :

Top grade, suitable to exporting to UK, Australia ,Bengal, Singapore, UAE ,EUROPEN COUNTRY,RUSSIA,ETC.
Kontaktinformasjon: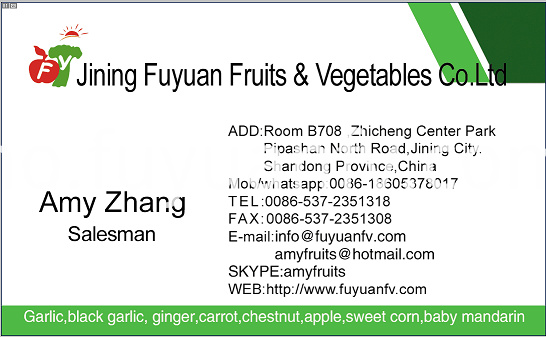 Produkt kategorier : Frisk hvitløk > Ren hvit hvitløk 4,5-5,0cm