2018 ny hvitløk har blitt høstet nå, og det er varmt å selge. Nå har vi Normal hvit hvitløk pris, 4,5-5,0cm, 5,0-5,5cm, 5,5-6,0cm 6,0 cm og opp, Fordi ren hvit hvitløk høsttid er senere enn lilla hud hvitløk, så vi har fortsatt hvit hvitløkpris til nå. Nå har vi ny ordreeksport til Norge, Panama, Irak-markedet, 500g * 20bags / 10kg kartong, 250g * 40bags / 10kg mesh bag.175g * 20bags / 3,5kg kartong. 175g * 50bags / 8.75kg kartong, 5.0cm lilla hvitløk, hvitløk i 10kg løs kartong, 1kg mesh veske hvit hvitløk, 500g mesh veske hvitløk, normal hvit eksport til Panama, løs nettveske hvitløk i mesh bag.We er ikke bare eksporter fersk hvitløk i denne sesongen, men også fersk potet, fersk gulrot Røde globale druer, søtt mais i denne sesongen. Hvis du har noen krav, vennligst ikke nøl med å kontrakt med meg.
Name

Garlic,Fresh garlic,Pure white garlic,Normal white garlic

Size

4.5cm, 5.0cm, 5.5cm, 6.0cm, 6.5cm and up

Place of origin

Jinxiang, Jining, Shandong, China

Certification

Global GAP,Phytosanitary certificate.Health certificate,Fumigation certificate,Origin,Commercial invoice,Packing list,

Supply period

All the year round

Fresh season: early June to mid September

Cold storage season: September to next June

Standard

Grade A

Packing

Loose Packing:

5//8/9/10/20KG MESH BAG;
3.5/7/8/9/10 KG CARTON


Small Packing:

120Gx40/4.8KG CTN, 160G*40/6.4KG CTN, 200gx20/4kg CTN,400Gx20/8KGCTN,500Gx20/10KG CARTON, 900Gx10/CTN,1KGx10/10KG CTN,

4P 200G*12/2.4KG BAG,5P 250Gx20/5KG BAG ,

500gx10/5kg MESH BAG,10P 100G*10/8KG BAG,

Quantity/conveyance

26/27/28/MTS FOR ONE 40RH CONTAINER

Shipment degree

-3°- 0°C

Delivery time

5-7 days after received the deposit

Shipment port

Qingdao Port of China

Main importing Country

UK, Greece, Russia, France, Norway, Turkey, U.A.E, Kuwait,

Algiers, Dubai, Bangladesh, Thailand, Malaysia, South africa,Brazil, Canada, America and so on.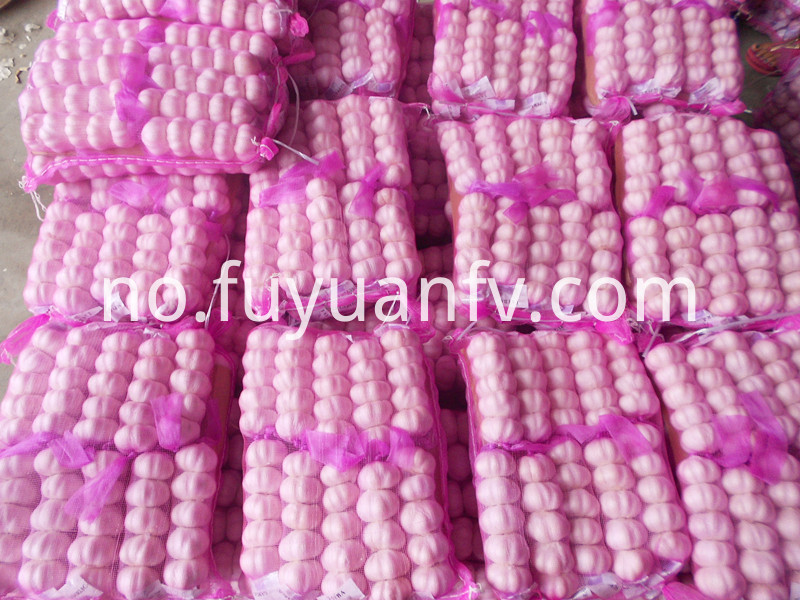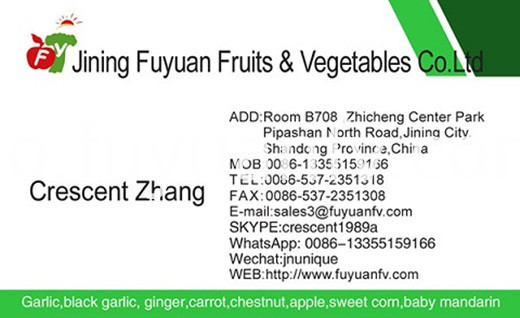 Produkt kategorier : Frisk hvitløk > Normal hvit hvitløk 5.5-6.0cm